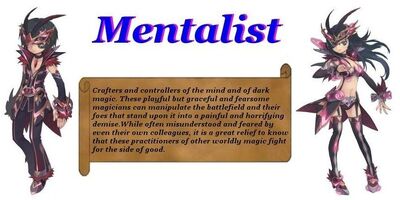 At level 130 the
Psykeeper
can progress to the 3rd job change - Mentalist. Mentalists are Masters of dark magic. Their magic tends to revolve around mental powers. Please don't call them "mental" otherwise you might end up on the receiving end of their extraordinary skills. Mentalis's are also one of the few classes that can use Shields for an extra defense boost. Mentalists require Offerep's Spellbook in order to use their Mentalist skills. Offerep's Spellbook is received from the Mentalist's Job Change Quest.

Aether's Grasp does damage in close range. Cimetier's Scream does take much damage over time, and it also last 10 seconds at max skill level.
Ad blocker interference detected!
Wikia is a free-to-use site that makes money from advertising. We have a modified experience for viewers using ad blockers

Wikia is not accessible if you've made further modifications. Remove the custom ad blocker rule(s) and the page will load as expected.