---
---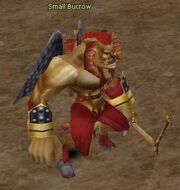 A Bucrow is a masquerpet found in Saint Morning. Their HP is about twice the average for around their level, and they hit quite high for their level as well. For this reason, they are generally avoided.
Ad blocker interference detected!
Wikia is a free-to-use site that makes money from advertising. We have a modified experience for viewers using ad blockers

Wikia is not accessible if you've made further modifications. Remove the custom ad blocker rule(s) and the page will load as expected.